Wireless Receiver
Talk

0
972pages on
this wiki
Wireless Receiver
Name
Wireless Receiver
Physics
No
Transparency
Yes
Luminance
Yes, 9
Blast Resistance
 ?
Tool
Any
Stackable
Yes (64)
Data Value
dec:177
Mod Included
Wireless Redstone
The Wireless Receiver is part of Wireless Redstone and is meant to be used with the Wireless Transmitter.
The Wireless Receiver GUI is opened by right clicking on the placed receiver. The frequency can be set between 1 and 5000. If a Wireless Transmitter is set to the same frequency as the Wireless Receiver, then any Redstone signal input into the Wireless Transmitter will be sent wirelessly to the Wireless Receiver over any distance (provided the chunk for both devices are loaded). This redstone signal will be emited in the direction the dish is pointed.  Both the transmitter and receiver can be placed on the sides of blocks. When placed it will sometimes emit a set of "tendrils" that will damage mobs.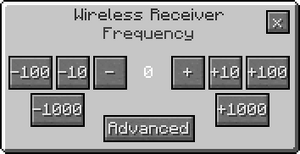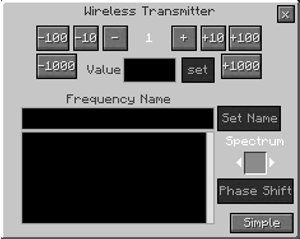 In addition to the convenience of not having to find or create pathways for the Red Alloy Wire in tight spaces, Wireless can minimize the number of Timers placed in an area. A master Timer is connected to a Wireless Transmitter and then multiple Wireless Receivers are placed around where they are needed. See image below for an example where many Filters activate at the same time from a single Timer. The benefits from this are that a master switch is already in place where the single Timer is and the clicking noises from so many Timers are drastically reduced in that location.