I'm very experienced with the Tekkit, or for now parts of it, including IC2, BC3, and the previosly included mods Forestry and Minefactory Reloaded, together with Too Many Items. I'm planning to install Energy link to get a usage on all the fuel at my refinery (over 2000 buckets)
Currently playing on an awesome, but old world, (The inner part is from Beta 1.6.6, while the other is generated in Tekkit) In the center I have a fastly expanding coast city, which's named Bluebay. North of it I have finished a Ultra-safe Mark III reactor (Auto-shut down procedure starts when water starts to evaporate, together with a day-auto system). Long east of the city I've found a oil well, and from there goes now a pipline 1 km to my refinery.
Today I have...
Edit
2 Smelter facilities
1 Large Oil refinery
5-dock harbor in the city
Charcoal-fueled power station, with at least 50 Generators
Ultra-safe Mark III reactor
1 Automatic Cactus facility
1 ITNT factory (Semi-automatic)
1 Pork Factory (Previosly the largest in the world of it's kind)
2 Mob farms
2 Machine gun towers
1 Modern mining facility
1 Science/Machine Museum
Modern railway systems
1 Breeder reactor
1 Large infantry military base
1 mountain cottage
1 Artifical glacier
1 transport canal (6 block wide, 400 meter long)
1 large brewery
1 city bank
1 "the ratway"
1 wall around my older base, >1 km long, >3 blocks high, 2 blocks wide, 3 towers
1 Full-auto sugarcane farm
1 semi-auto sugarcane farm
1 oil well
1 pipeline
1 Solar farm
1 city hotel
Bridges over water bodies
2 Massive TNT crater
Lots of different shops and resturants
Company and organisation HQs
1 water lock in the canal
1 Melon/Pumpkin factory
Residental houses
1 Automatic TNT drill
5+ small TNT wells
1 Communications mast
Small masts on rooftops
1 Cargo boat in Iron, Obsidian and Netherbricks
1 prototype elevator (Vannila)
More things...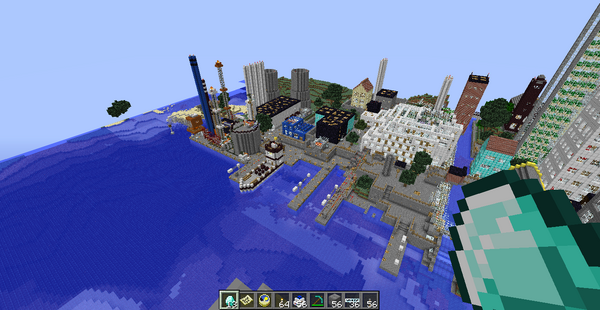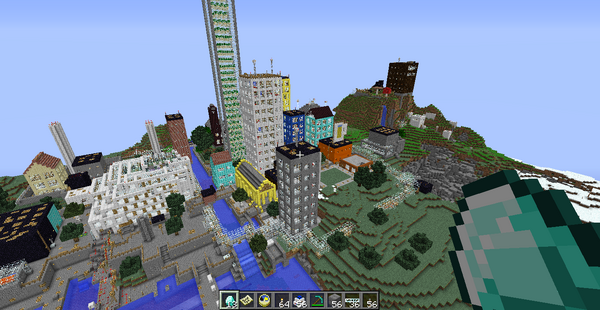 Other wikis
Edit
I am one of the active admins at the [http:\\justcause.wikia.com Just Cause wiki], if you want something there, then ask me :). Work on other wikis but that one is mostly in idle.