Speed Booster Rail
Talk

0
970pages on
this wiki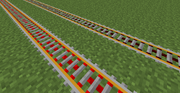 The High Speed Booster Rail works in partnership with High Speed Rail, and is useful for the transition between these and Vanilla rails.
Like the Vanilla Powered Rails, they're powered by Redstone and behave the same way: when powered with Redstone, these rails will boost a minecart's speed; when not powered with Redstone, it will slow the minecart. Approximately 8-10 unpowered Speed Booster Rails in a row will slow the cart to normal minecart speed.
A minecart must be slowed down before taking a turn, otherwise the cart and the track will blow up. See the High Speed Rail page for more information.