Rubber Wood (RedPower2)
Talk

0
972pages on
this wiki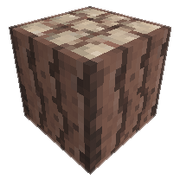 (Jungle) Rubber Wood can be crafted into 8 sticks or, using an Extractor, extracted into 1 Rubber per wood. They are harvested from Jungle Rubber Trees.
This kind of Rubber Tree is part of the RedPower2 mod and differs from the "Normal" Rubber tree.
(Jungle) Rubber Wood is also non-flammable so using a mining laser to cut it down is a possibility.