Power Converters
Talk

0
972pages on
this wiki


This adds several new blocks designed to make BuildCraft and IndustrialCraft2 interact better.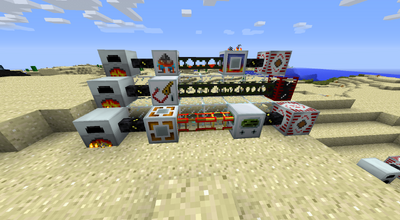 Engine Generators
The Engine Generator takes in BC power (from an attached engine or power pipe) and generates EUs. They come in LV, MV, and HV variants.
Recipes
Usage
Engine Generators convert at a 1:1 ratio, based on coal output in a generator vs a Steam Engine. You may not see an exact return for a given size input if it doesn't have enough in its small internal buffer to form the next output pulse.
Note that all three have an input cutoff higher than the output of a single Redstone Engine, much like how some of the BC machines work. If you want to use redstone engines, you'll need to construct a whole bunch of them and link them via Power Pipes.
Energy Link
The Energy Link, making it equivalent to forestry's Electrical Engine.
It converts at slightly over 90% efficiency (the extra loss is good).
Electricity (EU) is the input--Mechanical Energy is the output (like an engine).
Cabling connected to a power source must be connected on one side of the Energy Link, and the Energy Link can be placed next to the block it is powering or conductive pipes can be used. This is useful, as Powered Teleport pipes can be used in this scenario--meaning that an Energy Link can be placed right next to a power source and then Mechanical Energy can be sent off to a machine for use at much higher efficiency than if the electricity were to go through many blocks of cabling.
Fabricators
The Oil Fabricator produces Oil when powered. Like a Mass Fabricator, it will take an insane amount of power to run at any meaningful speed: One oil bucket is worth 50,000 EUs. Again, it does not care about input voltage. Best to not ask how the TNT is used in the process of creating Oil.
You can also now fabricate lava! The rules for input voltages are basically the same as the Oil Fabricator.
Geothermal and Hydroelectric Generators
This is outdated and no longer in use as the normal geothermal generator functions the exact same but also allows input of cells/buckets.
Have you ever wanted an easier way to generate EUs from lava? Well, now you have a modified geothermal generator that will run on lava that is piped directly into it:
No more do you need to mess with buckets and cells and autofillers and other such nonsense; just connect your pump to this wonder and watch the EUs roll in!
This machine actually serves two functions - it generates EUs from water, and it acts as a passthrough for liquids that aren't water, for when you are pumping oil out of a sea deposit but water gets in your pipes. Just connect your oil pipeline to this wonder and the oil will come out the opposite side (it must be the opposite side, not just any other connected side) and the water will be consumed for EUs. If it can't consume water fast enough, or you want to use it as a filter but don't want to deal with wiring an output wire, just provide it a redstone signal - it will then destroy any water that won't fit in its storage.
Extras
Refueling Jetpacks
Sure is a shame that you have these fuel-based jetpacks that can't run on fuel, isn't it?
Craft one of these and while holding it rightclick on a tank containing fuel. Presto, your jetpack is refuelled. For safety reasons you must unequip your jetpack and be carrying it in your inventory prior to use.
And if you want to can fuel? We got that covered too. As always, the empty bucket is returned afterwards. The reverse recipe is not provided because the BC bucket is worth far, far more than the IC can.
Balance, math and other numbers
A particularly "hot" topic about this mod is balance - everybody's opinion of it is different. The mod provides the ability for the end user to edit the config file to change the values used by each of the converters. The following will now explain each of the settings, what they do, which machine uses them, and how the default was derived.
First, some primers:
The IC2 unit of energy is the EU.
The BC unit of energy is the MJ (Minecraft Joule).
There are 1000 "units" of liquid per bucket.

Onto the numbers:
Scale.BCtoIC.Denominator=2 Scale.BCtoIC.Numerator=5
These two numbers are used by the Engine Generators (all three of them; they're the same thing underneath anyway). These two form the ratio of EUs you get from each MJ - if you've forgotten your fractions, EU = BC * Numerator/Denominator. Two integers are used instead of a decimal to avoid floating point rounding errors which can be fairly nasty to small numbers. The actual ratio comes from the output of a single piece of coal - in a steam engine, you get 1600 MJ. In a generator, you get 4000 EU. 4000/1600 = 5/2. To add inefficiency, decrease the numerator or increase the denominator.
Scale.ICtoBC.Denominator=5 Scale.ICtoBC.Numerator=2
These two are the reverse of the above, and are used by the Energy Link. Note that due to a bug in BuildCraft (current as of 2.2.5), some energy will always be lost in power pipes even if it's a single gold pipe. All comments about the above two are the same here, except that these go in the other direction.
Scale.EUGeneratedPerLavaUnit=50
This is the amount of EUs you get from a single lava unit in a Geothermal Mk2. If you want the Geo Mk2 to be less profitable, decrease this number.
Scale.LavaCostInEU=50
Same as the above, except this applies to the cost of the Lava Fabricator. If you want the Lava Fab to be less powerful, increase this number.
Scale.OilCostInEU=50
This is the cost to produce oil in the Oil Fabricator, and the most controversial setting in this thread. The default of 50 is based on the energy gained back from oil - a bucket is worth 20,000 MJ or 50,000 EUs. This could potentioally be unbalanced when refining the oil into Fuel.&nbsp As with the lava unit cost, if you want the Oil Fabricator to be less effective, increase this number.
Scale.EUGeneratedPerWaterOutput=1 Scale.WaterConsumedPerTick=2
This is the amount of power you get from the Water Strainer. Because the smallest value of EUs per water unit (1) would still yield 1000 EUs per bucket of water, I expect a number of people to find this too high for their tastes (this is actually the amount IC2 gives you per bucket of water). Increasing WaterConsumedPerTick essentially divides the 1000 by that number.
Scale.JetpackFuelFilledPerFuelUnit=468
A jetpack is fully fuelled via 6 coalfuel cells in a can; each piece of coal is 4,000 EUs. This is a total of 24,000 EUs. A jetpack has 18,000 fuel units (based on damage value), so 1.3333... EUs per fuel unit of the jetpack. Based on BC fuel's unit value of 625, a single unit of BC fuel will thus fill 468 (rounded down) jetpack fuel units. This makes jetpacks incredibly cheap to run on fuel; some people may not like that, but honestly given how much easier it is to just use the electric one, I'm fine with this the way it is. If you're not, just change this number. A smaller number will make fuel less effective at refilling jetpacks.
Rate.GeoMk2EUPerTick=20
The EU/t output from the Geothermal Mk. 2. Note that if you set this to a number that 1000 * EUGeneratedPerLavaUnit is not an even multiple of, you wouldn't completely drain the generator's internal buffer completely for each bucket you put in it. Probably not an issue, but noting this here in case you are testing it and you get a number that isn't what you expected.
Rate.WaterStrainerEUPerTick=2
The EU/t output from the Water Strainer. See notes on the Geo Mk2's EU/t rate, they apply here.
Enable.FuelConversionCrafting=true
If you don't want to enable BC->IC fuel crafting (which is incredibly lossy), set this to false, since there's no way to set the relative values of either.
Enable.EnergyLink=true Enable.(...)=true
For each of these, if you set the value to false, that machine/item will not be craftable. Any already produced (or spawned in via TMI or ops in SMP, etc) will function correctly. Warning for SMP: if you disable a recipe but the client doesn't, they will still see the machine in the output but won't be able to "take" it. It will work correctly, but you may get confused questions.
Sources