Oil
Talk

0
970pages on
this wiki
Oil is a dark liquid found in pools around the world. Its primary use is to be refined into
Fuel
to power
Combustion Engines
. One must use a
Pump
and waterproof pipes or a bucket to transport it.
Oil Spawns
Finding Oil can be difficult due to its rarity. It comes in the form of small, medium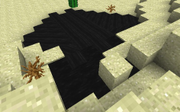 and large oil deposits. Small oil deposits contain up to 16 buckets of oil and are "common" in the desert biome, having a 3% chance of generating there. Large deserts usually contain several of these. Medium and large deposits consist of an oil bubble which center is located between depth 20 and 30. They can be spotted from the surface through an oil deposit looking like a regular deposit, except that it can be located on any biome, and contain a chimney going from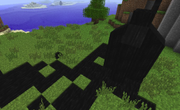 the actual bubble up to a geyser when reaching the air.
Medium deposits contain between 100 and 1000 buckets
of oil, large deposits between 2 000 and 17 000 buckets.
You can also find oil in oceans, they are easier to spot via minimap, same thing with the desert. Through current experimentation, an ocean with a guyser had more oil hidden under the ocean, use the top of the guyser as your "center" point, since the oil goes down though the ground. you can notice this when you jump into the water and go to the bottom of the sea floor. a 1x1 hole will show the oil spot. But dont jump the gun yet! I have just noticed that the oil looks to be in layers roughly about the same size. so after your pump stops working, build a boarder, of stone around the blocks that are water source blocks. To reveal the layer under it, see the ocean photo above.
Extracting the Oil
Once one finds oil, one may use a bucket to pick it up but it is recommended to use a Pump for medium and larger deposits, which is made from a Tank placed on a Mining Well. Tanks are made by placing 8 glass in a pattern like a furnace. From the pump one needs to run waterproof pipes to a tank, refinery or combustion engine. Combustion engines may be run using the oil, however this is very inefficent and it should be refined into fuel first.
Refining Oil
To refine oil into fuel, it must be run through an Oil Refinery. This must be powered by an engine or conductive pipes. From the refinery, fuel may be placed into a storage tank using waterproof pipes.