Iron Ingot
Talk

0
972pages on
this wiki
Iron Ingot
Type
Vanilla
Stackable
Yes (64)
Data Value
dec:256 hex:109
EMC Value
256
The Iron Ingot is a vanilla Minecraft item, with many uses in Tekkit. It is obtained by smelting Iron Ore or Iron Dust in a furnace. Iron is an overly abundant item in vanilla with players often not having enough uses for it. In tekkit however, it is needed for use in many IC2 Machines, as well as using iron ingots in Railcraft, Buildcraft and much more. Iron can also be re-smelted in any Furnace (not an alloy furnace) to create the IndustrialCraft item Refined Iron.
When growing Ferru, a Crop from Industrial Craft 2, a block of Iron Ore must be placed under the tilled soil in order for it to reach full maturity.
Blast furnace
Edit
Iron Furnace (Alternate Recipe)
(Alternate Recipe)
Crafting will not consume the amulet.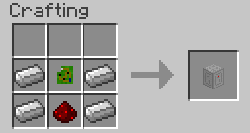 Iron Handsaw
Diamond Handsaw
Ruby/Emerald/Saphire Handsaw
Iron Sickle
Rolling Machine
Edit
Alloy Furnace
Edit