Conductive Pipes
Talk

0
972pages on
this wiki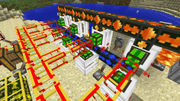 Wood, Stone and Gold pipes can be combined with Redstone Dust to create conductive pipes. These pipes are the only type of pipes that can carry energy produced by Engines to machines that can normally be powered by engines (e.g.
Quarries
,
Mining Wells
and
Oil Refineries
).

There are 3 types of conductive pipe: wooden, stone and gold.
Wooden Conductive Pipes
Wooden conductive pipes are used to extract the power from the engines and place them into the conductive pipes.You must put these in front of engines for the engines to operate. You cannot put gold or stone conductive pipes right in front of the engines.
Stone Conductive Pipes
Stone conductive pipes are used to transport the energy after it has been extracted by the wooden pipes. These pipes lose 1% of their energy for each block travelled.
Gold Conductive Pipes
Gold conductive pipes are also used to transport the energy. These pipes only lose 0.01% of their energy for every block travelled and so it is better to use these for transporting power long distances. In theory, you could use these to make a power grid that can cover your entire world, so if you want to make a Quarry, just tap into your power grid! Think about all of the possibilities...