Nuclear Reactor
Talk

0
971pages on
this wiki
Category page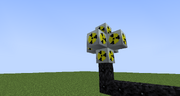 The Nuclear Reactor of Industrial Craft is the ultimate in EU generation, if you can manage to stabilize it.
There are many ways to build a nuclear reactor, some of which are completely safe, and produce plenty of EU.
Some YouTube tutorials:
1180EU/t nuclear reactor completely automated and safe(can't make faster EU than this):
If  not taken care of properly, it will most likely explode. A good way to set it up is to have just the reactor put one uraniom cell and the rest vents/coolent
The 1000 EU/t version:
The basic setup tutorial (for beginners):
Example of an alarm system:
Pages in category "Nuclear Reactor"