Buffer Gate
Talk

0
972pages on
this wiki
The Buffer Gate is a Redstone Logic device. When placed, the input is nearest to the player. The other three sides are output only, making this gate a diode much like the Redstone Repeater. The three output squares will power only if it receives a Redstone signal from its input side, allowing for the creation of one way circuits.
The Buffer Gate can be rotated using the Screwdriver or Sonic Screwdriver by right-clicking. Holding the "shift" key while right-clicking will disable the left or right or both outputs.
It's better to use this device instead of the normal vanilla repeater, if you want to place it in a corner.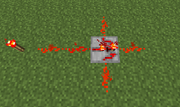 The Buffer Gate also can be used as a repeater with three outputs, as there is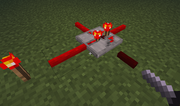 a slight delay between the time when a Redstone current reaches the buffer and when the buffer outputs a redstone current. This delay can be used for a "runway effect" with lights in a pathway.
It could also be used to split a Redstone current into three, great for compact redstone circuits.